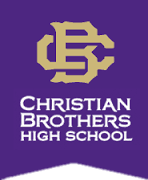 In this season of Lent I am reminded of the tremendous blessings we receive daily from God in an email sent from Christian Brothers High School, where my son is a student. It has also served as a reminder why as a Protestant family I made the wise decision to send my son to an all-boys school steeped in Catholic tradition.
Prior to him entering high school, my son and his younger sister attended private and public schools and received a great education at both. My point here is not to debate the differences between the two. Both can prepare our kids for college and beyond and depending on a variety of factors, can be the right or wrong place for your child. I'm a product of public schools and I am thankful each child has the opportunity to go regardless of their status in life.
Here are three reasons I am thankful my son attends a single sex Catholic School:
1) They help develop boys into young men.
When a 13 or 14-year old male walks into a high school for the first day they are still a boy regardless of the type of school they attend. All boys will eventually make the transition to young man and then manhood, but at CBHS they encourage this development by pressing them academically, emotionally, physically and spiritually.
I'm not opposed to co-ed schools in the least, but I can honestly say an all-boys school has been a blessing for my son. He has lots of girls that are good friends and rarely ever misses being asked to a dance or formal. I truly believe an all male school has made him appreciate and respect young ladies more so than if he was in a co-ed environment. This will go a long way in how he relates to females and I believe make him a better man.
Yet from 8-3 each school day an all male environment has allowed him to focus on his studies and individual growth absent much drama or the need to compete for female attention. There's ample time for that in the few social hours he has each weekend.
2) Regardless of their religion, the boys receive a religious education at CBHS.
In the fall of his eighth grade year we attended a "shadow day" where my son visited CBHS and spent time in mornings classes so he could get a feel for the day-to-day schedule.
After lunch the parents and boys gathered in the auditorium for a Q&A session. The first question Brother Chris asked was how many in the room were Catholic and how many were "other." It just so happened the majority in the room that day were Protestant.
"Don't worry," he said calmly. "We're not here to convert your boys to Catholicism. For our Catholic families we do owe their children a quality Catholic education and that's what they will get. For the rest of you, you're boys will attend an ethics class that is grounded in Scripture."
My son loves his ethics class, especially his instructor who not only is teaching God's word, but how to deal with life when tragic events occur in the lives of others or the school. For this I am truly grateful.
3) CBHS creates a "brotherhood" like no other I have ever witnessed.
I've been fortunate to be a part of many organizations where I developed a bond with others who were in the same place. Whether it is an athletic team, fraternity, band, legislature or any number of other groups, there is a kinship you build with those around you that will never evaporate.
But the CBHS "brotherhood" is unique. You hear a lot about it from alumni and parents and even read about it in the school brochures, but until you've experienced or seen it first-hand it's challenging to describe.
When my son and I attended the father-son banquet the weekend before his first freshman day, the principal gave a rousing speech about the importance of "brotherhood" that would be instilled at CBHS. But I still didn't get it.
He asked families who were fourth generation to stand. Several in the room did. Third generation and then second generation were also asked to stand. Then he informed the young men about to begin their new journey that regardless of their family history, from this moment on they are CBHS "Brothers" and that no one – not another person or distance can ever take that away from them.
Joey Forcherio, a soon-to-be 2015 graduate said it best in a recent letter he wrote.
"That is what CBHS does to its students. It takes young naïve boys and unexplainably intertwines them into brothers. When your brothers hurt, you hurt; when your brothers rejoice, you rejoice."
Now I'm beginning to understand what these boys are experiencing.
Any "brotherhood" is built and nurtured over time, but as each day passes and the mundane is interrupted by the occasional tragedy of losing someone or the exuberance of winning a state championship, it only strengthens the bond between their young men and will endure forever.
Some may question why I failed to mention academics in my three reasons. For me, that's been a given. In the five months my son has been at CBHS he as learned better study habits and been pressed beyond his comfort zone by his instructors. He's been fortunate to achieve second honors and I know the level of academic instruction, combined with the reasons above will mold him into the young man I long to see and experience.
Thank you CBHS and Go Brothers!